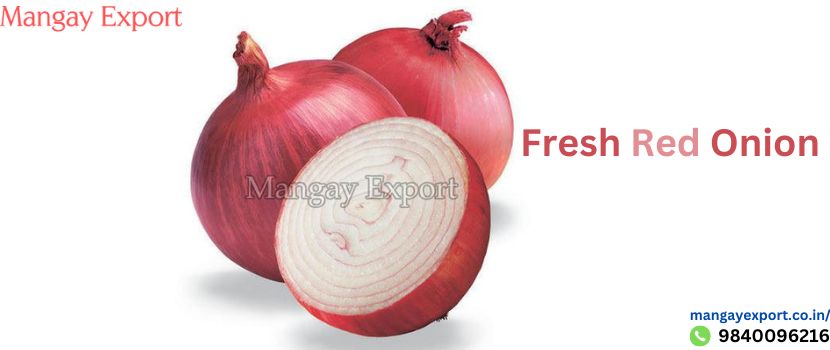 Red onion by Fresh Red Onion Suppliers in India is a versatile vegetable. It has been used in cuisines for millennia. It belongs to the allium family, which also contains shallots and garlic. Red onions are a common addition in many cuisines because of their distinctive flavour and colour. Here are a few explanations of why red onions are such a useful vegetable:
Flavour:
Red onion is a versatile component in many cuisines thanks to its sweet and somewhat spicy flavour. It may be used pickled for sandwiches, cooked in soups, stews, and curries, or eaten raw in salads.
Colour:
Red onions are a common choice for dish garnishing because of their striking red colour. Salads, tacos, and sandwiches gain a splash of colour from them, which improves their aesthetic appeal.
Texture:
Fresh red onion offers a delightful crunch to foods with its crisp and crispy texture. It may be chopped roughly for stir-fries and curries or sliced thinly for salads.
Nutritive Worth:
Red onions are a good source of antioxidants, vitamin C, and dietary fibre. Quercetin, a flavonoid with anti-inflammatory and anti-cancer effects, is also present.
Versatility:
From straightforward salads to intricate curries, red onion may be utilised in a huge range of recipes. It complements a variety of different components, such as cereals, vegetables, and meats.
Extended Shelf Life :
If kept correctly, red onions can be kept for a few weeks in a cold, dry, and well-ventilated location. They are therefore a practical item to keep on hand for last-minute dinners.
Simple To Prepare:
Red onions are simple to cook and don't need any specialised tools or knowledge. Using a mandoline slicer or sharp knife, it may be chopped, sliced, or diced.
Low-Calorie Intake:
Red onions are a calorie-efficient vegetable that can help lower a dish's overall calorie count. This makes it a fantastic option for anyone. Especially one who is attempting to maintain a healthy diet or who is controlling their weight.
Cooking Uses:
Several dishes employ red onions since they are a versatile element. To add complexity of flavour to recipes, it can be grilled, roasted, sautéed, or caramelised.
Cultural Relevance:
Many nations, including India and Mexico, have cultural associations with the red onion. It is a common ingredient in curries, pickles, and chutneys in Indian cuisine. It is a common component in salsas, guacamole, and tacos in Mexican cuisine.
Simple To Grow:
It is simple to cultivate red onions in a range of climates and soil conditions. As a result, both commercial farmers looking to develop a successful harvest and home gardeners wanting to cultivate their veggies frequently choose them.
Complement Other Ingredients Well:
A range of additional foods, including tomatoes, avocado, cilantro, lime, and garlic, go nicely with red onions. As a result, they go well with salads, salsas, and other recipes that use these items.
Final Words
Red onions are a versatile vegetable that is used in several cuisines all over the world. It's a great addition to salads, sandwiches, stews, curries, and more because of its flavour, colour, texture, and nutritional benefits.Red onions are a practical and wholesome component to keep on hand for any meal. It is due to their long shelf life, simplicity of preparation, and low-calorie content. Red onions are a useful addition to any kitchen, whether you're a chef in a professional or home kitchen.