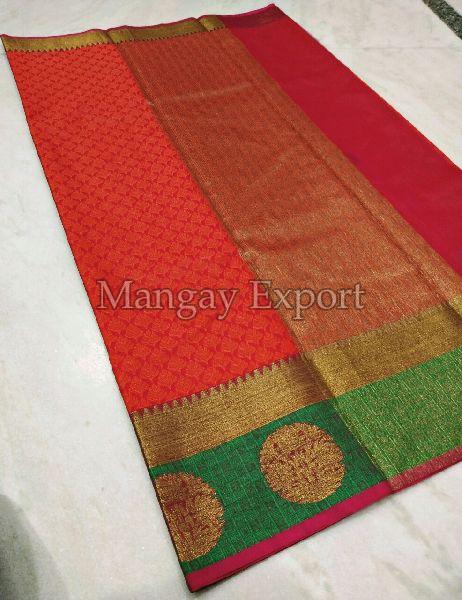 Even with changing times, our beloved traditional attire saree is still very popular when it comes to weddings, religious functions, engagements, etc. Sarees are often made from a variety of materials namely Banarasi, Cotton, Net, Raw Silk saree, etc.

Today women are opting for a different style of wearing a saree or draping a particular saree to ensure that they stand out in the crowd. Sarees have become a new statement piece of clothing that can be styled in a variety of ways from tradition to modern that can help you to mesmerize people around you. Listed below are few parties wearing styles and look of sarees that you can use to make a statement.

Dhoti Style: Women today prefer indo- western style of wearing a saree as these are super comfortable and elegant at the same time. Wearing a saree in dhoti style helps you to add extra fun and charm to the whole outfit. You can also experiment with the variety of draping styles to create that perfect look for your party wear.

Floral Patterns: Some patterns are evergreen and floral is one such pattern that stands out every time. It is perfect for people who love minimalist work on their sarees. Various indo – western saree designers make use of the perfect blend of color and floral theme to ensure that your look is simply outstanding. Designer Fancy Silk saree is the best suit for this type of look as the color and design stand a class apart.

Add Bling: Bling is something that can make any outfit simply gorgeous. But while bling does stand out one has to understand that the look should not be overloaded with bling than it becomes a little tacky. One should make sure that if you are wearing a designer blouse with bling then the saree should be very simple and vice –versa to make a statement with your look.

Frills: Frills are the new look of the season and hence trendy in the fashion space. The biggest advantage with this style is that you can drape these sarees in a variety of ways and it still stands out. The frills also add a designer touch to you plain saree and give it a unique look. Frills sarees are notorious for catching people's attention and it also looks good on almost everyone.

Apart from these above mention styles and looks, there are a variety of other looks that you can experiment to achieve that classy look. Always remember that a classic color or design helps you to get the authentic and inspired look that will help you to ooze out the saree wearing style and theme like no other. There is various fancy silk sarees supplier in Chennai that offers quality product at budget-friendly prices. You can also go online and compare prices to get the best deals and the latest trends on sarees.
This entry was posted on July, 21, 2020 at 14 : 29 pm and is filed under Fancy Silk. You can follow any responses to this entry through the RSS 2.0 feed. You can leave a response from your own site.