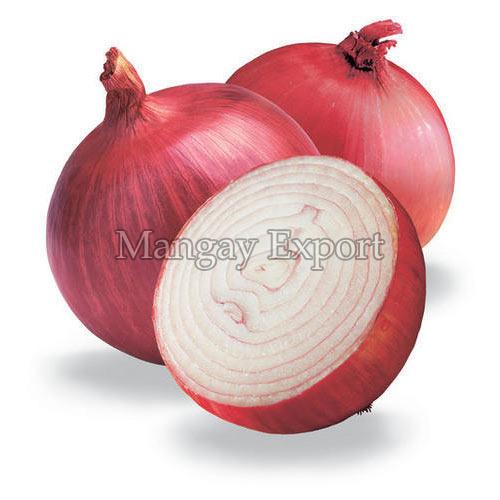 Onion is one of the basic vegetables used as a base for many culinary dishes. Onion is now the second most important horticultural crop after tomatoes. It has many different varieties such as red, yellow, white, and green, each of which has its distinctive flavor and pungency. As its varieties, there are many ways in which onion can be eaten such as raw, fried, roasted and dried.
Usually, fresh red onion is used to add flavor to different salads, curries, dips, stir-fry, soups and many other dishes. Red onion has a longer shelf life and is easy to use. Its wide application in a variety of food preparations where the appearance and texture of onion is highly crucial has made it a highly sought-after vegetable. Morphing into any preparation, this round, pinkish vegetable offer scrummy delights to suit any time and mood of the day. Used as the main ingredient in a wide variety of gravies or curries, onions enhance the taste and texture of any preparation. Onions, when combined with certain other spices and vegetables, can culminate into some mouth-watering, delicious preparations. With its mild sweet-spicy taste and pungent smell, onions are one of the main ingredients of most of the Indian sauces and gravies.

The fiber content in the fresh red onions enhances the bowel movement and keeps the problems like indigestion, constipation, etc. at bay. Some of the major health benefits of consuming fresh red onions are-
1. Rich source of calcium
Calcium is required in big amount every day for stronger bones and solid teeth in the human body. Just adding an onion to your culinary preparation is enough to supply the daily calcium! They also play a major role in the muscle functioning and nerve transmission.

2. Low in sodium
Onions are used in fewer amounts in the cooking. As it is low in salt it can be used as a substitute for salt. The intake of sodium should not be high in the human body, so using onions can cut the intake of sodium per day.

3. Low fat & low calories
They contain a few calories and no fat! So its use keeps the meal moderate for weight loss. It helps to retain normal health conditions by improving heart conditions and maintaining diabetes.

Following attributes can assist the fresh red onion suppliers in India to maintain the demand and supply chain and expand sales of fresh onions:
• They should acquire the best quality onions from renowned farmers who adopt modern techniques to produce quality onions for best flavor and nutrients.
• They should assure that the onions procured are grown organically.
• Though the onions have a long shelf life, without proper storage and packaging facilities the quality of the product may deplete.
• Primary airtight packaging should be safeguarded with corrugated boxes for proper protection of the product during storage and transit.
• Hygienic and spacious warehouses are needed to keep the dried secure from insects and rodents.
• Being it a basic commodity, the prices should be economical to reach the masses.

Hence, it can be acclaimed that by following the above-mentioned attributes, the fresh red onion suppliers can rein the global commodity market, establishing a benchmark as an eminent entity in the industry.
This entry was posted on August, 29, 2019 at 12 : 27 pm and is filed under Red Onion. You can follow any responses to this entry through the RSS 2.0 feed. You can leave a response from your own site.