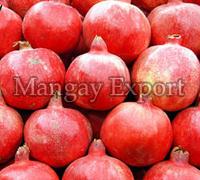 Known as one of the healthiest fruits on earth, pomegranate is loved for their sweet and bit sour crunch, bright red colour and deliciously juicy taste. Filled with many juicy, jewel-like seeds, pomegranate is a round-shaped fruit with hard, glossy red skins. Containing juicy nectar inside, each seed of this divine fruit is encased in a covering known as an aril. Whether you just scoop out the seeds and eat them raw, add them in a salad, use them as a garnish for desserts or make juice out of this, pomegranate tastes delicious in every form.

Nutritional properties and health benefits

Containing a range of beneficial plant compounds, antioxidants, minerals and a host of vitamins, pomegranate truly deserves the status of superfood. The fruit is a good source of dietary fiber, vitamin C, vitamin K, folate, protein, potassium, iron, calcium and many more health-enhancing nutrients. Eating pomegranate or drinking its juice has been linked to several health benefits. Categorized as a berry, pomegranate offers the following health advantages to your body.

• It helps protect the body against inflammation and free radical damage
• It may lower blood pressure
• It may also be useful against breast cancer, prostate cancer
• It may prevent Alzheimer disease and boost memory
• It helps reduce inflammation in the gut and improve digestion.
• It boosts heart health
• It can prevent some chronic illness and fight off infections
• It can fight joint pain and arthritis

Tips to pick the best pomegranates

Pomegranates that feel heavy for their size and have shiny, unblemished, firm red skins are often the juiciest ones.

Offering an excellent range of fresh pomegranate at highly competitive market price, the wholesale suppliers and vendors of this magical fruit have carved a niche in the fruit and vegetable market across the country. Their offered range of pomegranate is endeared by customers for their freshness, bright red colour, big size, delicious taste, nutritional properties and nominal price range. Following are some of the key factors that enable the wholesale suppliers of fresh pomegranate to retain their popularity in the market.

• They source the offered fresh pomegranates from best farmers who use advanced agricultural technology and limited chemical fertilizers to grow the fruit.

• They offer a great range of fresh pomegranates to buyers at an affordable market price.

• Supported by an efficient team of professionals and wide distribution network, they can easily cater to the bulk requirements for pomegranates within the shortest possible time.

• They always maintain transparency in all their transactions and direct all their activities to cater to the expectations of customers worldwide.

• To meet the varied demands of their wide patron base, they offer these products in many customized, high-grade packaging solutions.

• They check every batch of the offered product on some pre-set quality grounds before forwarding them to the marketplace.

• They allow buyers to place orders for any quantity.

Endeared for its nutritional value and delicious sweet and sour taste, the demand for fresh pomegranate has always been on rise among customers.
This entry was posted on July, 27, 2020 at 13 : 02 pm and is filed under Fresh Fruits. You can follow any responses to this entry through the RSS 2.0 feed. You can leave a response from your own site.