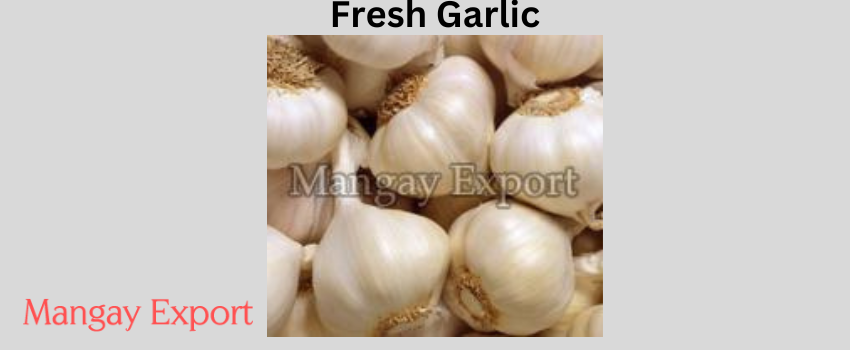 Fresh garlic is a popular ingredient used in cooking and has been prized for its pungent flavour and aroma for thousands of years. It is a type of bulb that is composed of several cloves that are surrounded by a papery white skin. When the garlic is minced, chopped, or pressed, it releases sulfurous compounds that give it its distinctive taste and smell.
Garlic is widely used in many different cuisines and is known for its ability to enhance the flavour of savory dishes. To get the best quality garlic with all its authentic benefits you can contact a reliable Fresh Garlic Supplier in Chennai as per your requirements. It can be used raw or cooked and is often added to sauces, marinades, soups, and stews. It can also be roasted or fried, which can soften its pungent flavour and make it sweeter.
Garlic has been used for both culinary and medicinal purposes for thousands of years and is known for its many health benefits. Here are some of the most notable health benefits of garlic:
• Heart health: Garlic is rich in compounds that have been shown to lower blood pressure, reduce cholesterol levels, and improve overall heart health.
• Immune system support: Garlic has natural antibacterial and antiviral properties and has been used to help boost the immune system and fight off infections.
• Cancer prevention: Some studies have suggested that regular consumption of garlic may reduce the risk of certain types of cancer, including colorectal, stomach, and lung cancer.
• Anti-inflammatory effects: Garlic has anti-inflammatory properties and may help to reduce inflammation throughout the body.
• Brain health: Garlic has been shown to have a positive effect on cognitive function and may help to reduce the risk of developing Alzheimer's disease and other forms of dementia.
• Improved athletic performance: Garlic has been used to improve athletic performance and increase endurance, although more research is needed in this area.
It's important to note that while garlic does have many health benefits, more research is needed to fully understand its effects. Additionally, some people may experience side effects from consuming large amounts of garlic, such as digestive distress or skin irritation.
Here are some of the key qualities to look for in a fresh garlic supplier:
• Reputation: Look for a supplier with a good reputation in the industry and positive feedback from previous customers.
• Sustainability: Consider a supplier who uses sustainable farming practices and who sources their garlic from environmentally responsible growers.
• Freshness: Look for a supplier who can guarantee the freshness of their garlic, as fresh garlic will have a stronger flavour and aroma.
• Selection: Choose a supplier who offers a wide selection of garlic varieties and who can provide information on their origin, flavour profile, and best uses.
• Quality: Look for a supplier who takes the time to inspect their garlic for quality, removing any cloves that are discoloured or damaged.
• Availability: Consider a supplier who can provide garlic year-round and who has a reliable supply chain.
• Price: Make sure the supplier offers competitive prices for their garlic, taking into account the quality of their product and the services they provide.