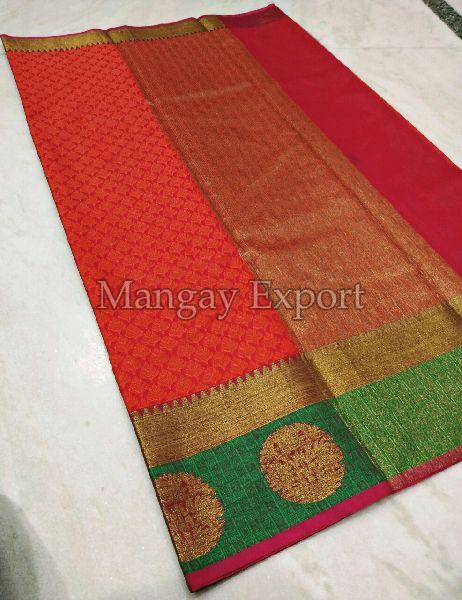 Sarees tend to have a distinct place in every Indian lady's heart. These are such stylish piece of attire that ladies of different cast, creed and populations all over the world happen to be in awe of them. The fabric-Silk is fashioned after a series of sincere efforts and hard work by the fabric manufacturers. Silkworms are reared to get silk shreds which are then weaved into sarees.
Fancy Silk Sarees Supplier in Chennai have to undertake a slow and strenuous procedure to create beautiful silk wear. But since pure silk wears are quite luxurious, manufacturers mix pure silk shreds with other synthetic yarns to make reasonable options for serving varied classes of customers. Pure silk transmits an inherent sheen to it which makes them a clothing class apart.

Why the fancy silk saree is a comfortable dress?
Rayon or art silk fabrics are soft and smooth to the feel. Being extremely absorbent, the art silk saree retains the body cool and comfortable since it does not insulate body heat, making it ideal for use in hot and humid climates.
In the present day, artificial silk may be made with rayon, mercerized cotton, polyester, a blend of these materials, or a blend of rayon and silk. Astonishingly with demand for artificial silk on the increase, despite efforts to curb prices, a rise in the price of rayon fabrics, has been observed.

Why the Indian silk is so popular in the world?
Indian fancy silk garments hold a sincere repute all over the world and this is exactly the reason why silk saree business is flourishing by leaps and bounds in India. However, besides India, China also happens to be a key silk exporter for the entire world but no one can beat the kind of variability India offers in silk fabric and silk garments.
There are a plethora of silk saree options related to different states in India. Benarasi, patola, jamdani, jamavar, kanjivaram, garhwal, samu silk are a few references from the long list of silk sarees available in India. In the southern part of India, a substantial section of the population is indulged in silk garments business. Be it the rearing of silkworms or the weaving of sarees business forms an essential part of primary occupation even in the remote parts of southern India.

Why the fancy silk saree is a choice in every Indian wedding
Designer sarees make wonderful wedding wear as these endure the first choice for a typical Indian bridal look. Simple silk sarees become all the more appealing with the fine craftsmanship done on these sarees. Whether its a sparkling zari border or finessed hand embroidery on silk, such additional designing improves the charm of silk sarees manifold.
However, the latest trend to hit the markets these days is the service of modified silk sarees. The silk garments manufacturers and designers now offer the customer to get a personalized saree designed as per the particular choice or requirement. The colour blend and design on silk can be tailor-made to serve the fancies of customers.
This entry was posted on February, 23, 2021 at 11 : 39 am and is filed under Fancy Silk. You can follow any responses to this entry through the RSS 2.0 feed. You can leave a response from your own site.