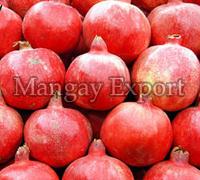 Pomegranates from Fresh Pomegranate Wholesale Suppliers are a fruit with a rounded shape and a reddish-yellow top. Open one up to see the succulent, ruby-like crimson seeds within. These seeds, referred to as arils, can be consumed either raw or juiced.
It is quite simple to either eat the delicious jewel-like fruit by itself or to add it to any of your dishes to take your cooking to the next level.
Pomegranate's rich red colour and many of its activities are due to polyphenols, an antioxidant found in the fruit. Let's explore each of the roles that this lovely fruit plays in detail.
Nutritional Facts:
-Pomegranate seeds are tiny yet contain a lot of nutrients, including fibre, calcium, potassium, iron, Vitamin K, Vitamin C, and B-complex vitamins.
-Punicalagin and punicic acid, two key chemicals found in pomegranate seeds, are primarily responsible for the fruit's beneficial effects on health. Punicalagins are a class of antioxidants typically present in pomegranate juice and peel; punicic acid, the primary fatty acid, is present in seed oil.
As we read more in our essay, we will learn more about these great substances.
Health Benefits of Pomegranate:
● More Antioxidant Power -
Antioxidants abound in pomegranates. The antioxidant known as polyphenols is what gives pomegranate seeds their red colour. Juice from pomegranates is said to have higher antioxidant activity than seeds.
Research suggests that the juice may have three times as many antioxidants as red wine and green tea combined. In eliminating free radicals from your body, lowering inflammation, and guarding the skin and tissues against oxidative damage, antioxidants can be highly helpful.
● Works like An Oxygen Cylinder -
Pomegranate juice is regarded as a blessing for the lungs because of its antioxidant action. Habitual use can help the lungs get clean, which is a much-needed cleansing for regular smokers. Additionally, it could assist in increasing the blood's oxygen content. All of these actions together may help to increase your lungs' overall performance, which is a crucial goal in the modern world.
● May Protect Your Heart -
Pomegranate from a Fresh Pomegranate Exporter might also be referred to as a robust fruit. It is well recognised to defend the arteries and the heart. Pomegranate juice, when consumed, has been demonstrated in studies to enhance blood flow and preserve the arteries. Pomegranate juice or seeds taken regularly can help maintain your heart healthy and lower your blood cholesterol.
● Helps Improve Immunity -
We all have realized the value of having a robust immune system last year. Punicalagin and punicic acid, two crucial components found in pomegranates, which are a fantastic source of vitamin C, also serve as antioxidants that can aid your body in battling pathogens.
● May Strengthen Bone Heath -
Flavonols are present in large amounts in pomegranate juice. Antioxidants called flavonols can help the body's inflammation by reducing it. Osteoarthritis or cartilage deterioration can be controlled by reducing inflammation. Pomegranate juice is also being investigated for its potential to treat rheumatoid arthritis and joint inflammation.
The easiest method to consume it is in pomegranate extract, which is sugar-free and more powerful than pomegranate juice. Fresh Pomegranate juice itself is a great source of natural fructose, sucrose, and glucose, so it doesn't matter if you buy it. Pomegranate seeds may be used in a variety of recipes, including salsas, chutneys, glazes, and salads.